Who said we have to work alllll the time? During our weekdays here, we work our butts off. But as the 21st century poet/rapper/herbalist Wiz Khalifa put it: work hard, play hard.
The first weekend we decided to take a few "teaser" trips; two shorter day trips on both Saturday and Sunday that would give us just a flavor of what Kenya has to offer. We planned all our trips through Taxi Max, a company ran by (and named after) one of Eldoret's most popular residents amongst students visiting from the U.S. Max is one of those happy-go-lucky, always good vibes kind of guy that employs about a dozen people for his taxi/tour company. So Saturday morning we packed up our bags and were off to the outskirts of rural Eldoret where we checked out a hydraulic power facility and its neighboring waterfall, Umbrella Falls (this isn't the actual name, but it's what everybody calls it and I dunno the real name).
On the way there, once we were further from the city, we passed a lot of farmers and their families. Now, in the city, we get stared at all the time, but people never really talk or wave to us, we aren't special. So as we slowly made our way through the farmlands, I expected much of the same. Instead, people seemed almost happy to see us, waving with both hands and smiling as we passed by. A group of children we passed excitedly screamed "MUZUNGUS!!!" which basically means "white people" in Swahili, and our entire car laughed hysterically.
Once we got there, Max told us about the place and its history. We learned that 'Eldore' stands for "stony river", but the local Kalenjin people decided they didn't like the name. So to make it "more Kalenjin", they added a T to the end, making it Eldoret. I'll spare you the rest of the history lesson and just show you the photos…
On the way home, Max took a different route so that we could see what the waste management system looked like in Eldoret. Not knowing what to expect, my curiosity was mounting. Now, if you haven't scrolled through the photos below yet, this is your warning.
What we saw can only be described as humbling. I was close to tears by the time we got through the area. The amount of trash – but more notably the people surrounded by the waste – really rattled me. The images you only see in documentaries or PBS specials, where people are scavenging through miles of trash to survive, came to life before my eyes. The photos I captured by no means even begin to do it justice, but I hope each of you reading this can walk away from your computer with a greater appreciation for just how good we have it in a developed country.
[DISCLAIMER: throughout most of the drive to our destination, I was VERY uncomfortable with the idea of taking photos of poverty-stricken people from the comfort of our vehicle. It felt wrong. But as we drove home, I kept telling myself that I'm not taking these photos for me. I'm taking these photos so that those of you who are not able to see what I am seeing and experience what I am experiencing get a tiny glimpse into the lives of Kenyans. I am still uneasy about photographing and sharing this; however, as a student and photographer afforded a unique experience, I refuse to let this opportunity to document the world pass me by. Thank you for understanding.]
On a brighter note, we also passed a group of boys that ran alongside our car and waved to us – this is my favorite moment to-date since arriving in Kenya.
Day 2: Rift Valley and Kerio View
Rift Valley is where many Olympian long-distance runners from around the world train. Our hike wasn't terribly long but it was quite steep and scarily slippery given the recent daily rains (we have now moved into wet season in Kenya). We got to the waterfall, a little past halfway to the top, but getting to the base of the falls was dangerous with all the mud and the roughly 60-70 degree drop off that we would have to navigate down. I could have just looked at the waterfall from the top, that was the safest thing to do. But as I stood there looking at the route down, I knew I would never be able to look at a single photo from today and not wonder what it would have been like if I climbed down. My decision was made.
There was a decent haze over the valley all day, unfortunately, so while the lookout point at the top was gorgeous, we could not see too far into the distance.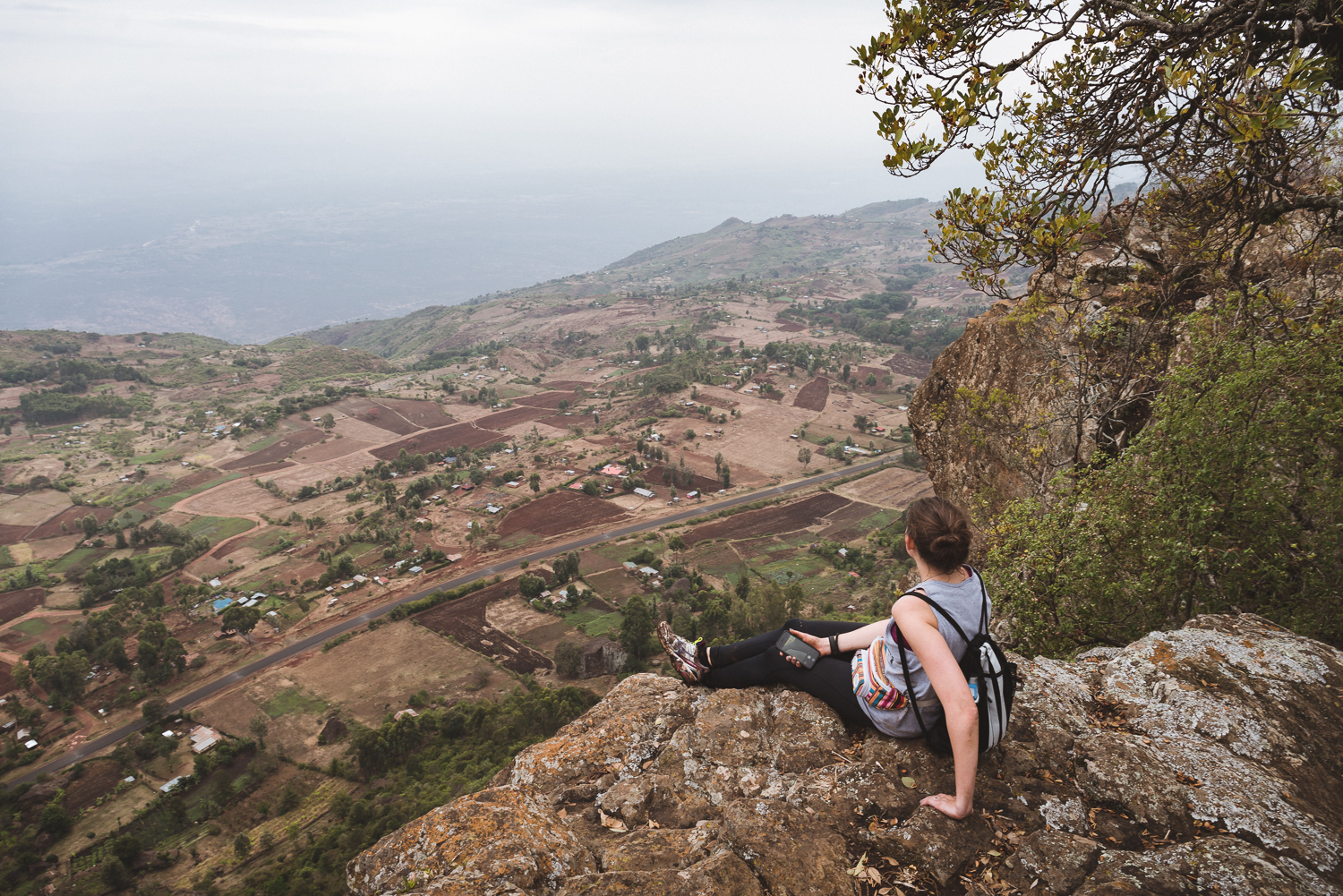 After hiking back down the mountain, we were in the clear and headed home. The dirt roads had turned into mud roads with the early afternoon rain and after veering off the road a bit to avoid a car stuck in the mud, we found ourselves stuck. I didn't take any photos and instead tried to help get our safari-style truck un-stuck, which we did after about 30 minutes.
A wonderful, waterfall-filled weekend in the books.