As I type this, I am packing to leave Kenya. [Edit: I've been home for over a week now] It's been an -eventful- 7 weeks here, and I plan to keep rolling out blogs about my experiences even as I return home. There is A TON to process, which is a driving factor behind me only posting every few weeks. I just haven't felt like writing all the time, and when I do, it's hard to stick to one path or train of thought.
My last post mentioned in passing that during the upcoming week, we would find out about if we matched for a pharmacy residency or not (and if so, where we did). Here is an abbreviated update:
This whole "residency search" thing has been a long, exciting, frustrating process. It started over a year and a half ago with a class, followed by tons of time building my resume, chatting with alumni, researching programs, attending meetings and pretending to not be exhausted, etc etc. Then I submitted an application to 13 different programs and waited to hear back from them for scheduling interviews -- which I got less than expected. And let me tell ya, I was really frustrated by the entire ordeal. With my self-confidence plunging, I pulled it together for my interviews and gave it my best, but even afterwards I was still unsure of what my future held… and then I left for Kenya.
On March 20th, at 3:05 in the afternoon (Kenya time), I got the email: Your ASHP Match Result. My stomach dropped as I hesitated to click into my awaiting fate… For the last 6 weeks, I had been preparing to read the words "Dear Austin… Unfortunately, you did not match with a program. Blah blah blah" or something like that. Instead, as my finger pressed to my iPhone, a "Congratulations, you have matched!" appeared in bright blue. I wanted to throw up, honestly. I read on, finding out I had matched with The University of Kansas Health System, my favorite program.
So yeah. In a month, I'll be moving to Kansas City, getting my own apartment, and taking the next step in my journey. I am still fairly uncertain what I want my long-term career to look like, honestly. And I have a lot of ideas in mind for side projects I'd like to start by the end of 2018, mostly non-pharmacy related, but we'll see what happens.
Back to Kenya.
Mt. Longonot & Hell's Gate
Our next weekend trip was to Mt. Longonot, an active volcano a few hours southeast of Eldoret. We left Friday afternoon, knowing we'd need to rise early for our big hike Saturday morning. Longonot is basically a massive crater, and the hike up to the rim took us about an hour. From that point, we hiked around the entire rim (about 7 kilometers) in the burning sunlight. Given that we were just off the equator, applying sunscreen every 90 minutes proved to not be enough, as we all left with some less-than-flattering sunburns. The hike back down was actually one of my favorite parts. Instead of walking, we decided to run down most of it (I only run if it's downhill because it's like half the effort and WAY more fun). By the time we got to the bottom, I was pooped, burnt, and dehydrated (despite drinking 2 liters of water throughout the hike).
After the hike, back at the hotel, we were supposed to go for a boat ride on Lake Naivasha, but afternoon thunderstorms quickly thwarted that game-plan. So instead, I made friends with a guy who owned a camel and tried to take some eerie photos of the lake before the storm.
On Sunday, we traveled to Hell's Gate, which is right next door to Longonot. To get to our hiking destination, we rode some sketchy bikes along a bumpy dirt path, stopping to lay eyes on the zebras, warthogs, and gazelles in the park. Even snagged a few pics of some zebras fighting! After our joy ride, we hiked through a river bed towards "The Devil's Bedroom", our final destination – and actually a location used in the filming of Lara Croft: Tomb Raider (shoutout to Angelina Jolie). It was a pretty wet & muddy hike, so I didn't really take my camera out much at all, thus the lack of photos.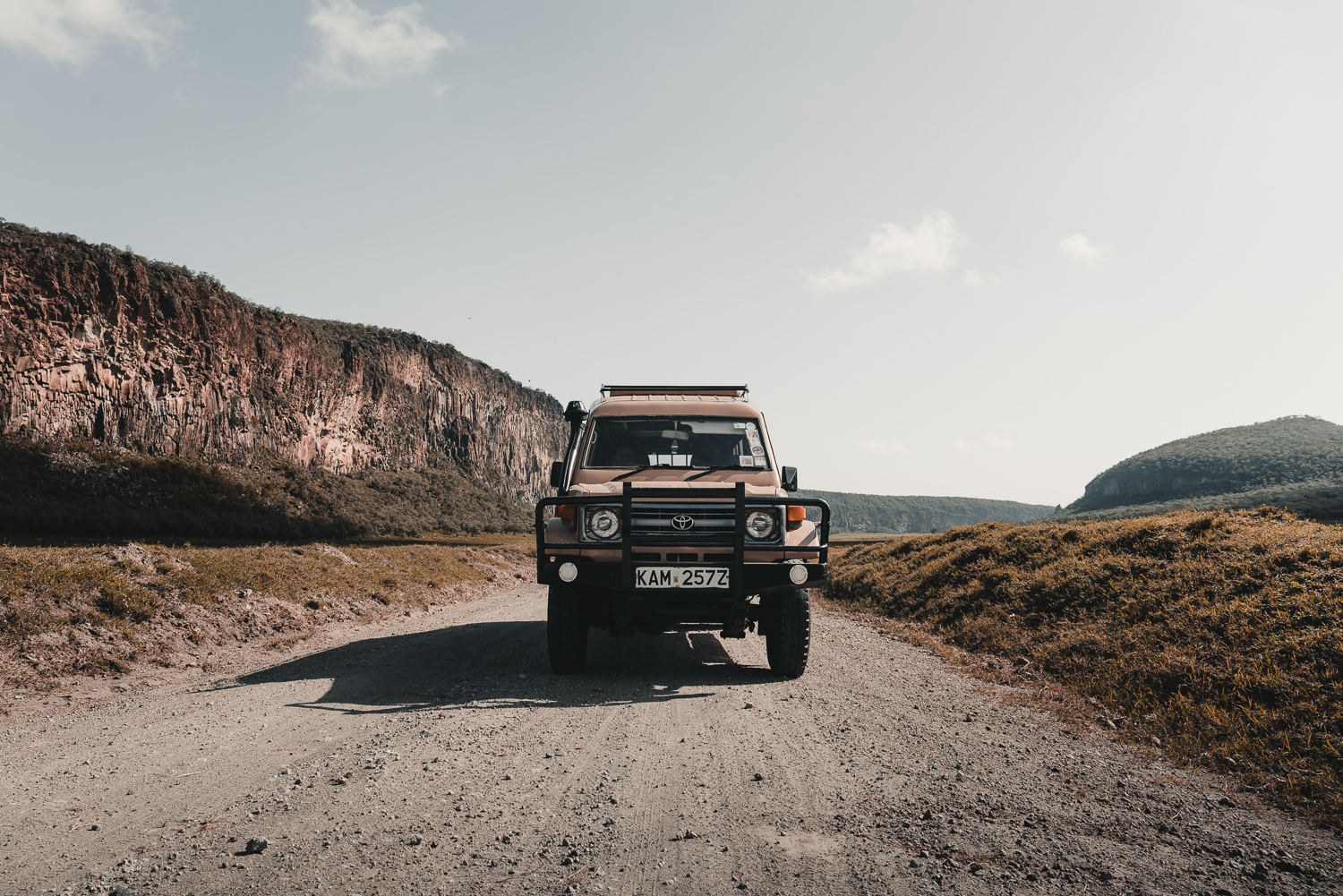 Lake Nakuru
Weekend #5 was spent at Lake Nakuru (a neighbor of Lake Naivasha), and I was absolutely jazzed for it. The week leading up to it at the hospital had been absolute (excuse my language) dogshit. A lot of patients passed away, the team was extremely thin in terms of hands-on-deck, and I felt a bit lost in the mix of things. So, a relaxing, enjoyable weekend was much needed. Instead of hiking – or doing any sort of physical exertion, for that matter – this trip was all about sightseeing. Basically, it was a mini-safari. We tracked down tons of different animals, including the endangered southern white rhino. If you've been following the news, you might have heard about how the last male northern white rhino recently died and only 2 females remain in the world. Their cousins, the southern white, are what we saw in Nakuru. There were also hundreds of baboons, buffalo, and zebras. And to our good fortune, we got extremely close to a couple of giraffes that were chowing down food near the road.
DAY 1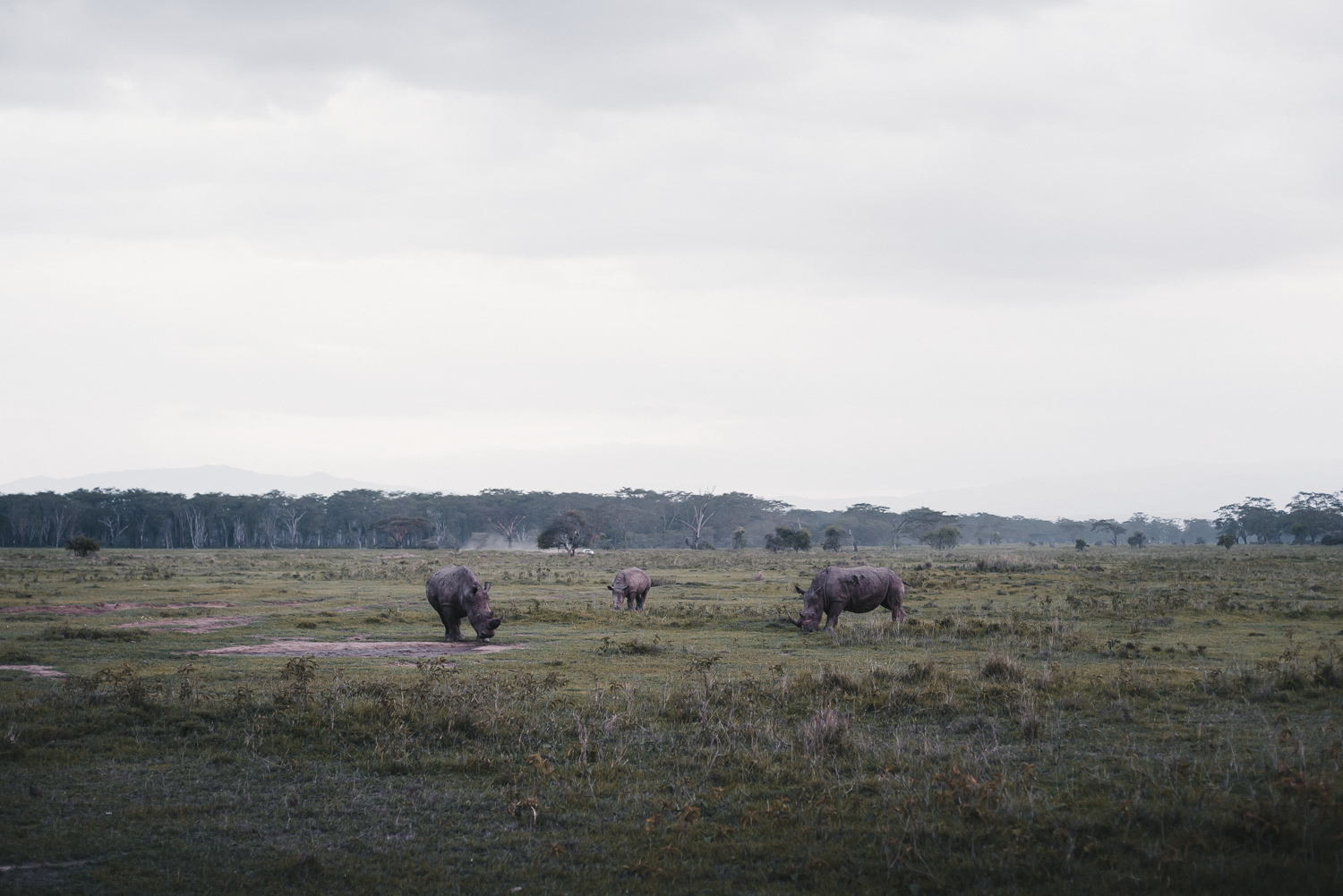 Potentially the highlight of the trip came at the very end of our morning drive around the park on Sunday, when we headed up to Baboon Cliff. When we got there, what I thought were statues of baboons (because they were so close), were not statues. The baboons there were extremely used to humans, and instead of running from us, they choose to attack the cars and try to steal your bags. If you aren't careful and quickly close all your windows, they'll snag a bag and jump off the cliff with it, knowing the humans can't follow them down. They then go through it later in hopes of finding food. This is exactly what -almost- happened when a car that came up after us did not realize they needed to close their roof. Photos below for proof, and for laughs.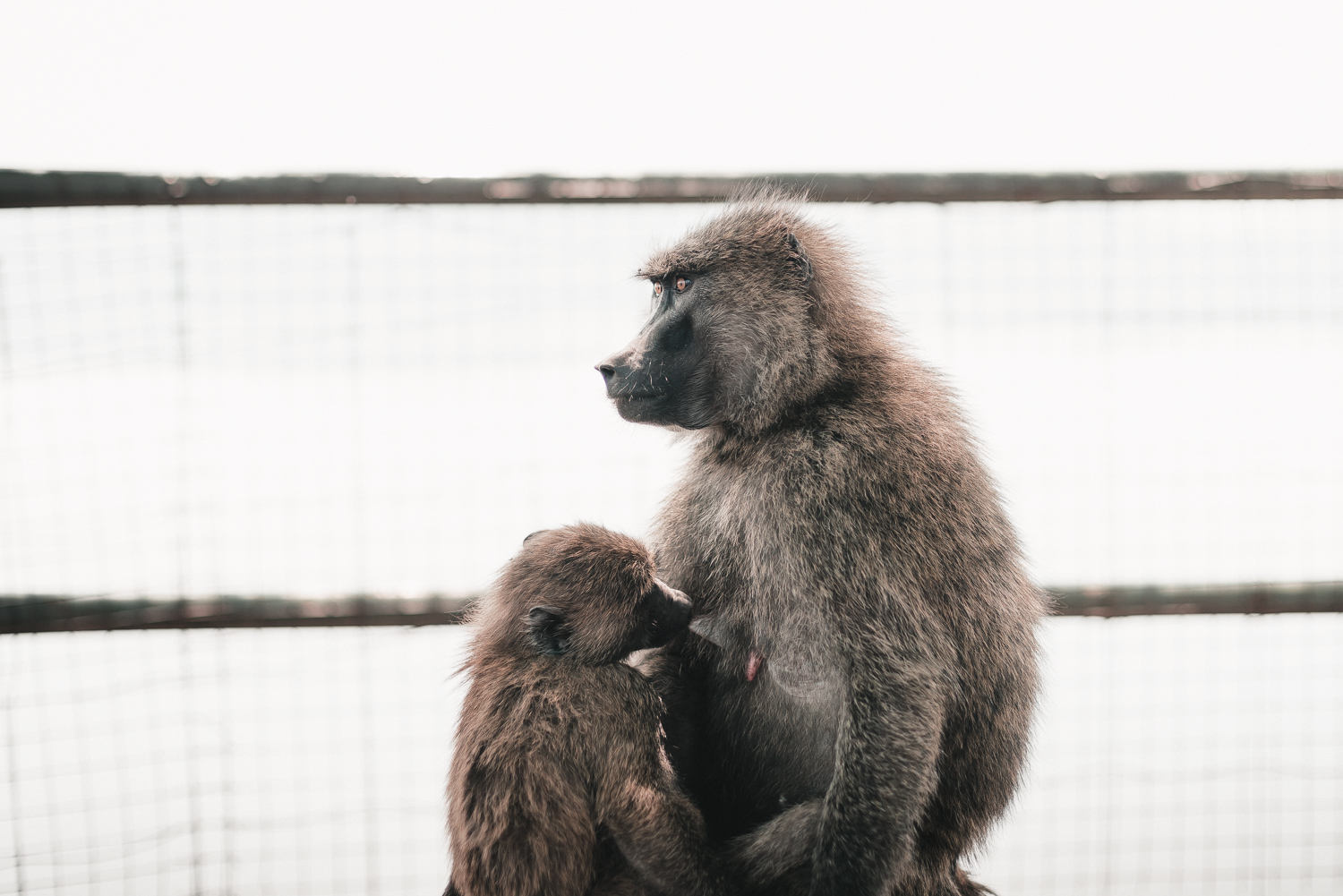 Thanks again for those of you who still scroll through these things! I'm finally done editing all my photos from the trip and am looking forward to sharing more soon